Sol of the City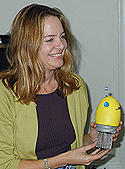 You might think the idea of designing solar powered products in the shadowed canyons of New York to be, well, misplaced. But Amelia Amon sees the city's density as environmentally positive as well as a source of connections, both professional and electrical. And if you get your Cherry Garcia cone from a solar powered ice cream cart at your next Phish concert, you'll be seeing one of her designs.


The Digital Body Builder
(or, Dances with Keyboards)




Starting out as a designer of science fiction book covers, Shelley Eshkar is now creating digital interpretations of the human form – stuff that itself could have been the subject of a sci fi novel. His recent works, with collaborator Paul Kaiser, interpreted the dance forms of Merce Cunningham and Bill T. Jones. Now he wants to digitize the movements of regular New Yorkers.


The Full Circle of 360 Design Group

The Duchamp of Dumpster Diving