LG: We're interested in collaborations, and the way that different people collaborate. Do collaborations work well for you?
LS: Y'know, as a lighting designer, I'm in a difficult position. In the worst case scenario, lighting designers are just selectors of lighting fixtures from lighting catalogs. And that's the real basic point of view about lighting designers, that they are real good with binders and catalogs and lighting calcs. So, from that end, to an absolute full collaboration, there's a lot of space. We just did a project, a club that opened a few weeks ago, called XL, here on 16th and 9th. [Photos on previous page.] That was an absolute and total collaboration, right from the start, with the architect [David Ashen of d/g*], and if you see the images, you can see that. His vision was for "a palette for light," and the client's vision was a palette for light, so therefore the lighting had to be planned together, right from the start, and all of the decisions about color, surfaces, text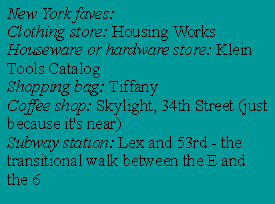 ure, volumes, hollows, places to put those lights, places where the effective light is visible, places where things are concealed or exposed, all of those decisions had to be made together.
DB: So, you were more of a design equal than a consultant.
LS: Yeah.
LG: You have really run the gamut in your role on various projects.
LS: There's a pretty wide gamut. It's not that easy to negotiate. I mean one day, you're a service provider, and other days, everyone's looking towards you to make a decision about color and paint, because of its interaction and integration with the lighting.
LG: So, it really just depends on the project, the people…?
LS: I guess the goal would be to collaborate fully; to only have clients that wanted to do that, [whose] goal would be, "let's find a lighting designer / artist, a person who works with space and light, that I enjoy working with, and whose work I enjoy -- let's do some things together." We're doing another project where, in a sense, somehow I feel I'm being led around on a leash…
DB: You're more in the consultant role again?
LS: Yeah, but there's different levels of consultancy. Sometimes we're still more leaders as consultants, and other times, we're just really being told which fixtures to use.
DB: Looking at it from the architect's stand, one of the first things to do is to suss out what your role in the project should be…how strong a hand can or should you take?
LS: I'm beginning to feel I need to define that more…
DB: It's nice to be in the position where you can. I was looking through your list of projects and, is this accurate or not? You've always had projects in the city, but usually smaller, and your larger projects until recently have been outside the city. But now, you're getting to do the public ones here?
LS: Yeah, it's kind of an amazing turn of events. We're doing a public project in Jamaica, Queens, two tunnels, we're doing the Triple Bridge at the Port Authority, the ferry terminal, the bus terminal on Ninth Avenue....
DB: But, before that, all of your large scale public projects were outside the city: the Denver and Glasgow projects. Was it making a name for yo

urself outside New York that enabled you to get the jobs here?
LS: We're on the public art RFP [Request for Proposal] list and all the cities and states that have one percent for the arts have these mailing lists. So we've gotten a few that way but they're all out of town. All the ones that we've submitted for in New York, we haven't gotten. (laughter).
LG: Are the projects in town that you are working on now through the one percent for art?
LS: No, they're all design projects. We're being hired by architects and engineers. We're actually going towards engineers as a new kind of client, because they are often awarded large-scale public projects with specialty features – signature and identification elements – without the in-house expertise to design them. We can help with those kinds of design features.
DB: I was wondering why so many of your projects, it seems, are related to transportation?
LG: Is it the space factor?
LS: Well, we're going for that.
DB: You've consciously gone for transportation type spaces?
LS: Yeah. We're interested in that. Ever since the Denver airport one, which was a big breakthrough – it's a mile, it's a tunnel, it's weird, it's amazing…and it was really influential for me, because it's like, if you're a lighting designer, what's better than a big long dark tunnel? And I'd always wanted to design dark rides at Disneyland when I was a kid – I'm from California, remember?
DB: Well then, what town has more dark, long tunnels than New York? (laughter)
LS: Except that I can't seem to get a commission from the MTA! (laughter) And the other reason for my interest in these spaces relates to the part of me that is very political and a community activist. I think the way that manifests itself is [in] this inclination towards these abandoned and neglected spaces. Unacknowledged, under-recognized, kinds of spaces being more interesting to me.
LG: You would have liked the lecture we went to on saving the High Line [the abandoned elevated railway in Chelsea].
LS: I was there. The Hell's Kitchen Neighborhood Association [a community organization which Leni is very involved with] testified on behalf of that. Actually, we're working with the Design Trust for Public Space on a big urban design project. So I kind of transcended certain boundaries of "lighting designer." Probably "artist." My most recent lecture is about using light as a catalyst for urban design efforts, and using light as an activity; a hands-on community activity, and that's what the Glasgow project was all about. Working with pe

ople and light and how compelling and how rich that is – it's very complicated; you'll have to ask me questions (laughter).
DB: How does that play into civic activism? The community group that you are working with, how would your lighting expertise dovetail…
LS: It doesn't really, except for Triple Bridge [where] I was on the task force for the community board, as a representative of HKNA. We put together an RFI [request for ideas] that was disseminated amongst the neighborhood and other design groups. It was modeled after a competition design brief, but rather than a competition, this process was a way of eliciting creative ideas. We asked: What would you do with the bus ramps? How would you like to see them ? Make a presentation board, make a model, write a letter or poem to show us your desires. After a big symposium and exhibition of the 40 responses, we created design guidelines based on all of that information. The Port Authority then used those the guidelines for a competition among five architects. I joined Pasanella + Klein, Stolzman + Berg Architects and we created the winning entry. So, that was a very direct community-based design and yet different from, "let's do a survey," or, "let's vote," or, "let's do community reviews," and let's dumb-down the design, which is how everyone thinks of community based design.
LG: Did this process impact your later projects?
LS: The Glasgow project was an intervention at some locks and ponds on a canal that was being renovated by British Waterways around this neglected, terribly misused, burned-out type of place. So I created an educational component with the kids that walk along the tow path to school every single day. Following the design brief model from Triple Bridge, we incorporated the children, teachers and a group of designers and artists to build boats - really floats - for the" Water Above Water" event. They were all building boats and we did lighting to reinterpret the space. There were also activities that engaged people into the design process, that got people involved in this revitalization.
DB: Physically involved and contributing, as in executing it, or just reflecting their presence?
LS: They made things, interpreting a design brief: boats that were light-emitting, light-transmissive, or light-reflecting. The artists and designers did one kind of boat/float, and the kids did another, and the Scottish model builders' just brought their boats along. For a project in Cleveland, we're thinking of getting a children's group that's right at the site to create temporary shrouds and facades during the installation process of the project, doing some exercises together about light about the site.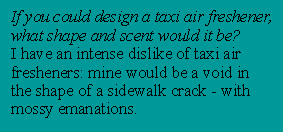 DB: I was wondering – maybe this is too direct a parallel – but could you say that the ramps at the Port Authority are analogous to the locks?
LS: Not formally, but it's similar…about transportation flow.
DB: And that's a "spine" of a sort, through the middle of a neighborhood. Maybe I'm reaching too hard (laughter). I'm just wondering if you saw that as a connection between the projects, if there was one…?
LS: No, but it's nice. You're creating new meanings. The fact that it is a neighborhood that's defined by its openings and by the gaps in the street wall and by the institutions that surround it – the Javits Center, Port Authority, Penn Station, new Penn Station/Post Office. It's big institutions and lots of openings from tunnels and lots of gaps. It's built around that, and the locks are a little bit similar, but those two things didn't occur to me.
LG: We were talking earlier about inspiration from living in a community, in a city of designers. Do you think that, being in New York influences your work or is necessary for your work? Do you interact with other designers?
LS: Sometimes, I think I tend to be a little more introverted or hermitlike than I seem. I would rather plow along and do my work, [feeling] that I have pretty much have found my direction. I don't get out that much and schmooze, or do a lot of group design, a lot of social activities…. I think that probably we are so inside the inside, that we don't realize how involved with each other [we are], even on an osmosis level, and that's probably what got me here, and what gets a lot of people here. But now I'm saying that I don't ever see these other people anymore. I think that if I lived in North Dakota, which is probably a wonderful place, I'd see how different it is, being in the center of some creative activity.
LG: And, your work might be very, very different.
LS: Oh, I'm sure it would be. And I do have an awareness, when I go other places, that I do appear to be a New Yorker (laughter). I talk pretty fast. So, in a sense, we barely know what it is to be a New Yorker, when we're in New York…
DB: Well, you can't, until you're away from New York. What would you say are the difficult aspects of being a New Yorker? Of working here?
LS: Well, if you're a workaholic like I am, it's not difficult at all; it's totally enabling. (laughter)
DB: Because you're not crazy if you're working at four in the morning.
LS: Yeah, 'cause hopefully, everyone else is.