DB: If you get the right mix…
AA: Exactly. Most of my collaborations are with fabricators. I guess it's mostly me, ordering things…but, a lot of the time, it's low budget and there's sometimes time constraints, there tends to be a lot of back and forth with the fabricators…
DB: Are these local fabricators?
AA: Right. I have a good friend who has a metal shop in Brooklyn…
DB: I often find that the nature of the local resources, say, a m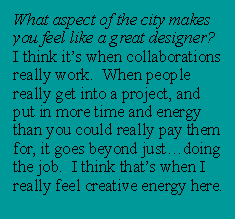 etal shop in Brooklyn, affects not only my ability to do a project, but also, it allows the project to happen in the first place…If I was in a place that was less urban, or in a place with fewer resources, would the project happen at all? Or would it happen differently?
AA: It's a bit like Canal Street. It's great to have Canal Street, but you can start relying on it…it becomes "I'll only design this if I can find it on Canal Street…"
LG: But, think of how much you can find on Canal Street…There's endless possibilities…
DB: Is that a constraint, or a freedom? Is Canal Street a dependency? (laughter)
LG: We have to get a support group of people like us, who are addicted to Canal Street…
DB: It's not just the availability; it's the type of resources. A lot of the metal guys who you go to locally are probably more artistically inclined, and therefore, they understand what it is you are trying to do…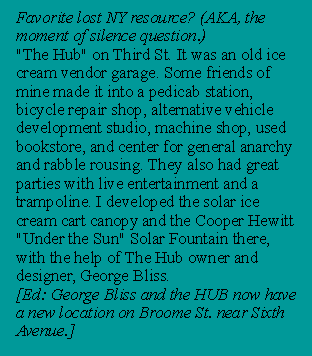 AA: And, don't you find that a lot of the metal guys are sculptors?
DB: Yeah. But I think that's again because of where we are; they are not just tin-knockers…The gist of it is, do you think that your work would have happened or evolved differently, if you had been somewhere else? Do you see yourself doing your work somewhere else?
AA: I think it could have evolved somewhere else, though I wouldn't have become such a good name-dropper (laughter). I don't know if I would have come to meet Ben and Jerry…some of those connections probably wouldn't have happened, had I not lived here…the Cooper Hewitt wouldn't have happened, and all of the connections through them… It probably would have happened, but in a different way.