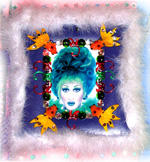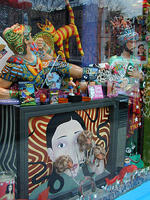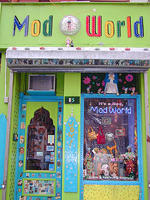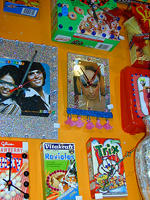 (The following two articles are from a series about store owners and collectors in New York)
Surrender, Dorothy...'Cause You're Gonna Want to Shop:
A Day at "Mod World"
Article and Photographs by Lori Greenberg
Bondage Barbie dolls. Fuzzy Pink Flamingo Lamps. Barbarella clocks. Not only are we not in Kansas anymore, but you'd need a pretty fabulous pair of red shoes to get there from here.
Welcome to "It's A Mod, Mod World," a store in New York's East Village which offers a whole 'nother perspective in one-stop shopping. From the bright blue and green jewel covered storefront, to the "Notorious George" figurines (a clay sculpture of "Notorious BIG" meets "Curious George," complete with gold chains and guns), well, on second thought, let's forget the whole "Kansas" thing all together.
You could say this is a "toy store," but that doesn't begin to describe it. You'd have to combine it with an art gallery. A really fun art gallery. Skip the wine and cheese and go straight for the pez. Yes, there are tin toys and robots, but what's really the draw are the handmade pieces: a wild assortment of toys and objects made by local artists, including the owners. I must get a bigger apartment.
Rick Smith, one of the owners, had a business degree and was working in insurance. He "felt dead, until coming to New York." Yeah, alot of people do say that. But soon after arriving, Rick became inspired by an artist friend who decorated his apartment to look like "'Pee-Wee's Playhouse' meets 'The Day of the Dead.'"
Knowing there was much more where that came from, Rick started finding things on the streets of New York, picking through the garbage, and buying old toys from street venders on Avenune C, and then began transforming toys into sculptures with the things he found. He found inspiration in old Mr. T. dolls (don't we all?), Barbie dolls with parts missing, and badly translated packaging from other countries. "My apartment became an ongoing installation," he says. Which turned into a store.
Rick and his business partner, Keith Yip, who has a background in fine arts and fashion, opened that store almost six years ago. This is their second location, both in the East Village. When they opened the current store, they had one of New York's most infamous drag queens outside, serving lemonade. Which actually made plenty of sense. There is definitely a feeling of over-the-top drag style in the store. "I love fakery in design," says Rick. "The faker, the better." Both the inside and outside of "Mod World" is covered in huge, ersatz jewels, glitter, and feathers. Inside, there is a fishtank up front with fish -- real ones -- swimming between Elvis, Divine and Gumby. Past the fish, the walls are covered in clocks. Of course, Rick and Keith made the collectible clocks from cereal and detergent boxes, adorned with jewels and glitter. Mr. Bubble never looked so good.
Both Rick and Keith say that they were always inspired by Japanese imagery and toys. "The Japanese people who come into the store really understand what we make," says Rick. "They think it's cute, or it's funny, or they are just pleased by the aesthetic." Speaking of aesthetic, "more is more" for Rick. "I overdo everything. For example, I won't make two pulp-fiction themed candles; I'll make 500. I can't go half-way."
With a great look always comes some controversy. 'Cause it ain't easy being this fabulous. "Alot of things in the store are offensive to people, but I can't conform," says Rick. For example, "Mod World" carries the work of John Ross, a local artist, who created the "Notorious George" figures, along with "gangsta" versions of the Teletubbies, and gay Smurfs. His work, says Keith, with a smile, "warps the icons of childhood."
From the John Ross "Planet of the Apes" salt and pepper shakers, (my personal favorites), to the Jane Fonda glitter clock which says, "Get those legs in the air!", "Mod World" pushes the limits of art, toys and commerce. Many of the items in the store have become collectibles, including the first Barbie dolls that Rick ever made, done up in balloon tube dresses, and looking, as Rick puts it "like Susan Powter." Rick put the dolls in the window, with word balloons saying, 'Stop the insanity!'"
But, why would we ever want to?